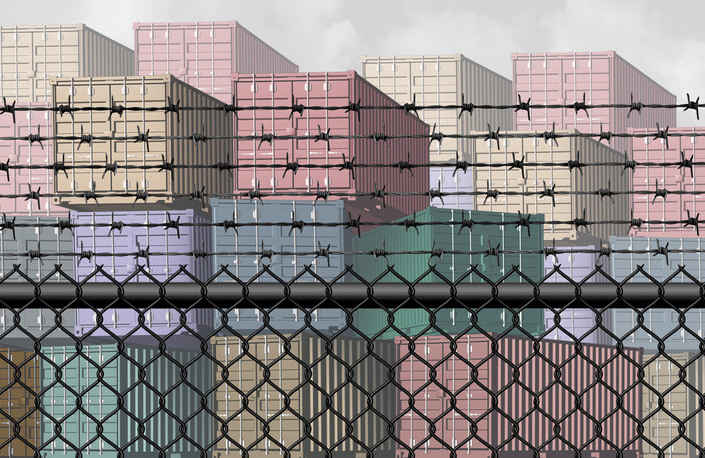 14 July 2022
The COVID-19 pandemic and the war in Ukraine have had an impact on all sectors of the economy, including transport and logistics. Serious problems have affected all carriers, regardless of the means of transportation they use. Companies operating on a small scale, in a local market, have been relatively mildly affected. But large international and intercontinental carriers have had many reasons to worry and their financial performance has been seriously jeopardized.
Broken chains
The outbreak of COVID-19 in China, followed by the worldwide development of the COVID-pandemic, have caused serious disruption or complete disruption of existing supply chains. The quarantine and strict sanitary rules, limiting freedom of travel to a minimum, have resulted in a sharp reduction in the number of employees. The increase in illnesses and deaths rate have had the same effect. Closing the borders have reduced the number of possibilities to provide international transport services. Regular customers have decided to cancel shipment orders because their suppliers and customers have sharply reduced production or suspended work in their factories.
In maritime transport, the effects of the asymmetrical transport pattern has become visible: the East has quickly run out of containers – they have been left behind in the Western ports after being unloaded. Transporting empty containers is uneconomic. Besides, the import of goods to China and other Asian countries can be handled with only a small number of the containers arriving to the West. In 2021, only four out of ten containers delivered to North America were sent back.
No drivers and orders
As regards road transportation, serious problems began when the number of orders dropped and there were more and more difficulties in crossing the border during the pandemic. When the biggest crisis triggered by COVID-19 was overcome and it seemed that the transport world was back on track, Russia has invaded Ukraine. As a consequence of the announcement of the general mobilisation of Ukrainians, the number of available professional drivers has decreased significantly. Most of them have left their jobs to defend their homeland. It is worth noting that in many transport companies operating in our market, Ukrainians have accounted for more than half of the workforce. This problem is most acute for Polish carriers but it also affects companies in other countries of the European Union.
The suspension of shipments (apart from humanitarian and military ones) to Ukraine, as well as further restrictions imposed on Russia and Belarus, have forced carriers focusing on these directions to suspend their activities or urgently seek other orders.
Rail transport on the New Silk Road has also suffered from the war, although during the pandemic declines in traffic were periodic and only minimal.
Closed sky
The closure of the airspace of Ukraine, Belarus and Russia to civil aircraft has affected all airlines, including those specialising in cargo transportation. This group includes carriers operating on behalf of freight forwarders and major logistics companies with their own fleets which have been forced to suspend operations in many countries and limit them in others.
Insurance under the microscope
The conditions for insuring cargo have changed: it is possible to buy additional protection for cargo against the war effects in air and sea freight, but at the same time this increases the insurance premium, which must be taken into account when preparing a quote. At the same time, in road and rail freight, this is basically impossible.
The current crisis, like every other, will pass eventually. Some carriers will not survive but the transport industry will emerge stronger than it was a few years ago, richer in knowledge, experience, new solutions and ideas for overcoming a variety of obstacles.